Altered Alpha

Create something different! Alter an initial for that Special Someone and make it with LOVE!!!
Supplies needed:
2 Sheets of Making Memory Papers, 1pc of Transparent Paper
Making Memories Stickers, Toga Alphabet Sticker
Book Pages, Ribbons, Buttons, Fabric Flowers
Eyelets, Distress Ink - Fired Brick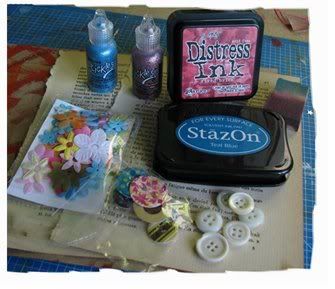 Step 1: Cut The Papers
Place your C on your flowered paper and trace around the C alpha.
Do the same with the striped paper.
Cut the C Shapes
Step 2: Make the embellishments before glueing your papers on the alpha.
On the flowered side, I glued false and real buttons and a transparent tag.
I stamped a frame (Autumn Leaves) with StazOn on the transparent sheet. Cut it out and I pasted alphabet stickers on it. I distressed the stickers so that the colours would match.

On the striped side, I glued buttons and word stickers (Making memories). I attached flowers with eyelets (that's why its important not to glue the papers before).

Step 3: The Edges
Ink your book pages with distress ink.
Tear them in little stripes. The width should approximately match the edges of the letter.
Ink all around the stripes
Step 4: Glue
Glue your C shapes on each side of the alpha. Ink all around.
Glue stripes of book pages all over the edge of the alpha, inside and out.

Teared edges gives a vintage look to your project.

Then you can give the final touches by attaching the ribbons and glueing the transparent frame with invisible dots

And these are our take on the tutorial