Wednesday, July 30, 2008
These are the submissions from our lovely participants.

Yati's Album

Anna's Album


Alby's Album

Imee's Album


Fiona's Album

Mary Ann's Album

Ms Olivet's Album

Mimi's Album

Tuesday, July 15, 2008
Artz de Scrap
's Chosen Inspirational Scrapper for July 08 is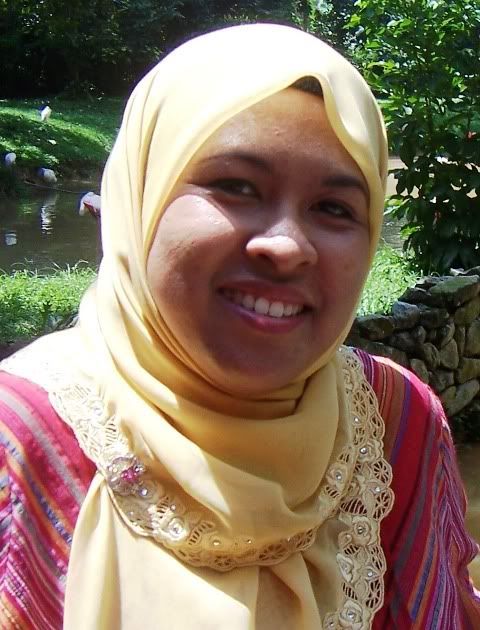 Hey everyone. I'm Yatie Tajudin from Malaysia. I'm a SAHM with a 6 year old daughter. I fell in love with scrapbooking about a year ago and through it I discovered many tips and techniques that can be applied to basically any art. Altering comes naturally when I started and have loved every single item that I altered.I love the creative process as I have always been very artsy since I was in school. But most of all, I love the friendships that I've made through this art. Friends who share the same passion and love in creating something beautiful out of nothing. I would like to take this opportunity to thank the Artz de Scrap team for choosing me as the Inspirational Scrapper for this month. It is such an honour.
Items Needed
1. A wall clock (any size)
2. Adhesives
3. Scissors
4. Craft knife
5. Piercer
6. Cutting Mat
7. Screw driver
8. Patterned paper
9. Flower cutouts
10. Rub Ons
11. Number stickers
12. Other embellishment
Step 1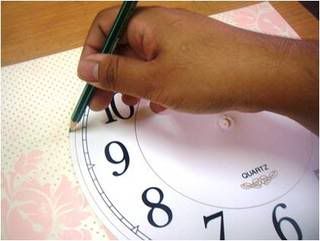 Unscrew the casing of the clock and gently pull out the second, minute and hour hands in the clock.
Step 2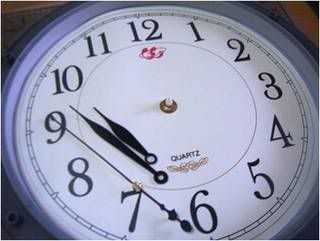 Carefully peel out the background sheet in the clock and trace the circle size onto the pattern paper.
Cut out the circle
Step 3
Align the two papers carefully and on a cutting mat, pierce holes on the numbers to mark where each number should be on the new background paper.
Trace also the hole in the middle of the paper and cut out.
It should look like so:
Step 4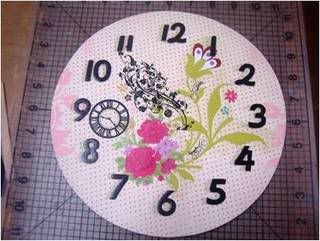 Embellish and place numbers on the marked places on the new background. Making sure the middle hole is not covered.
Please make sure also that the embellishments are not layered too thick that it would hamper the movement of the clock hands.
Step 5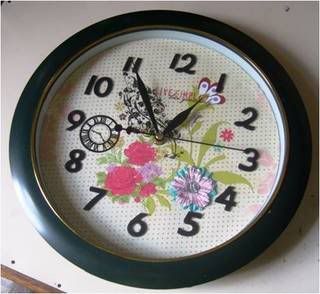 Place the finished background paper on to the clock base and carefully reassemble the hands and screw in the cover.
Now you have a beautifully made altered clock to hang on the wall.
And here are out takes on this tutorial:
Cabbie's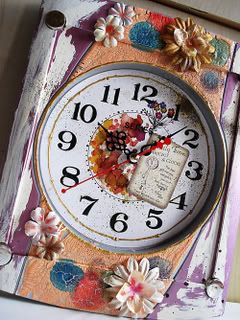 Felicia's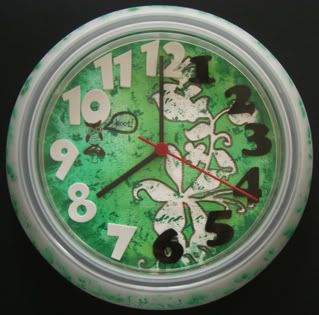 Liza's
We would love to see your take on this tutorial.
Do share it with us, email us at artzdescrap@yahoo.com.sg
Happy Altering!!!
Tuesday, July 1, 2008
Ready for the next Challenge?
What would you do if you had a naked accordian mini album to alter
and scrap about your favourite things?
For this month's challenge, we would like you to alter a naked accordian mini album.
We are giving out 6pcs of these albums to the 1st 6 (six) scrappers who register with us through our email at
artzdescrap@yahoo.com.sg
(Pls state Registering for Challenge #8 in your email header)
Challenge: To alter any accordian mini album and scrap about your favourite things.
Here are ours!
Cabbie's Mini Album

Felicia's Mini Album
Liza's Mini Album
Wati's Mini Album


Update: Due to the overwhelming response, we regret to inform you that the giveaways have all been taken up.

If you are not the 1st 6 registrants, no problem!
Just alter your own mini acordian album and link your submission
(on your blog)
in the comments section or email us a copy to
artzdescrap@yahoo.com.sg
for a chance to win a RAK. You have till Thursday 31st July 2008 Midnight Eastern Time. International scrappers are most welcome to join in. The winner will be voted by the Designers and will be announced here on the 1st of August 08.
Sneak Peek of our next tutorial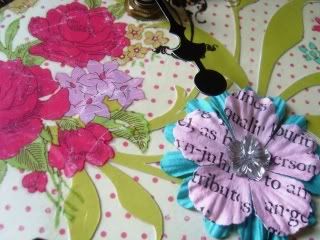 Do check back here on the 15th of June 08 for this Lovely Project and a wonderful tutorial by our next chosen Inspirational Scrapper
We are thrilled to announce that our Design team members,
Cabbie
and
Felicia
are now our
Permanent
Resident Designers
!
Congratulations Cabbie and Felicia!
Thank you for all the hard work and Brilliant Creativitiy that you have applied to all the challenges here at
Artz de Scrap
!
You are truly an Inspiration to us all!
Thank you for all your Gorgeous submissions of your altered drawers! We hope you had fun while altering the drawers!The Design Team has voted and the winner is ..................
Anna Ling


Thanks again for playing along with us and hope to see more precious & lovely submissions for Challenge #8!