Sunday, June 15, 2008
Artz de Scrap's Chosen Inspirational Scrapper for June 08 is
Hi! I'm Jessy Christopher, 27, a preschool teacher and a photographer here in Malaysia. Mixed parentage of Indonesian, Chinese & Dutch. I've been married to my sweetheart, Eric for almost 3 years now & we are proud owners of 5 fur-kids. We do not have children at the moment, hopefully very soon!
My precious students & family members are my fav subject. I started on paper scrapbooking about early last year, till I found digital scrapbooking in October 2007, stumbled upon it while browsing. Have been very occupied with digital scrapbooking then.
I'm also in the CT (Creative Team) for a couple of digital designers. What I love the most about scrapbooking is the freedom to express myself. There's no boundaries, I can do whatever I want on my layout. Still consider myself as fairly new to digital & also paper scrapbooking but it has become quite a passion and when I have any free time, it's the first thing to do in my list!
This is a very simple and easy project to give as a gift or it could be a tin for you to store your stash such as buttons, ribbons or even quotes.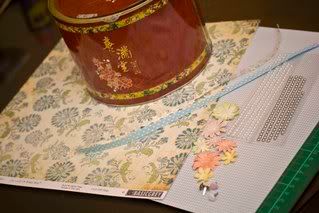 Supply list:
Metal Tin
Pattered papers
Ribbons
Flowers
Pearls / Blings
Adhesives
Scissors
Paper Cutter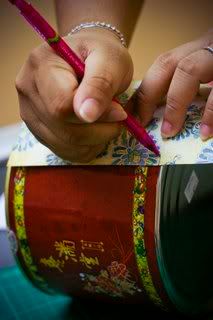 Step 1: Measure the height of your tin.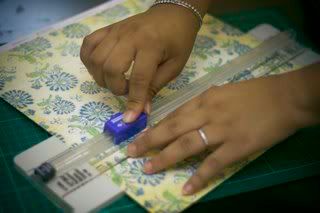 Step 2: Cut the paper according to the measurements. If your paper is not enough to go around the tin, you would have to attach another piece to join it.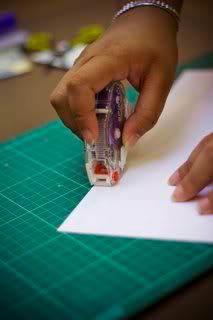 Step 3: Apply adhesive tape to your paper.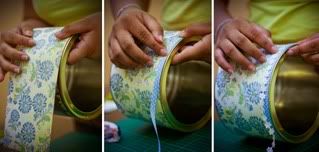 Step 4: Paste the paper to the tin. Next paste the ribbons.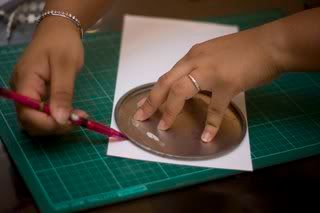 Step 5: Measure the cover.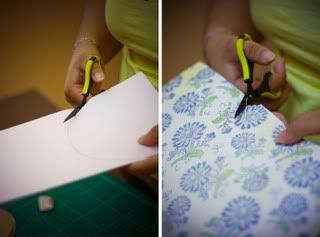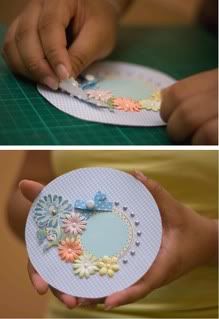 Step 6: Cut the paper for the cover & you will also need a flower cut-out to be placed at the round paper as part of your embellishments. Arrange your embellishments accordingly & this is how it should look like.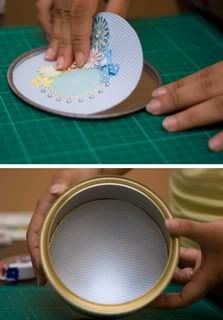 Step 7: Paste the round paper to the cover. For the inner part of the tin, I cut another round paper for it.
And this is the finished tin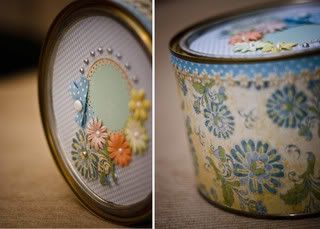 I hope you'll try out this simple tutorial!
This is our takes:
Cabbie's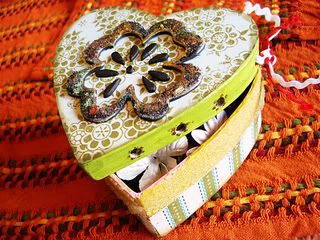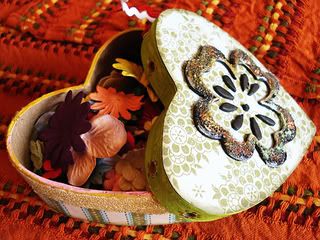 Felicia's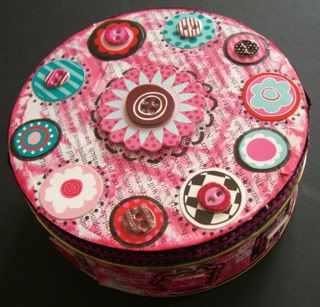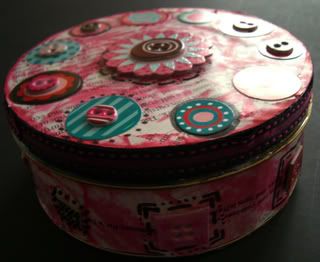 Liza's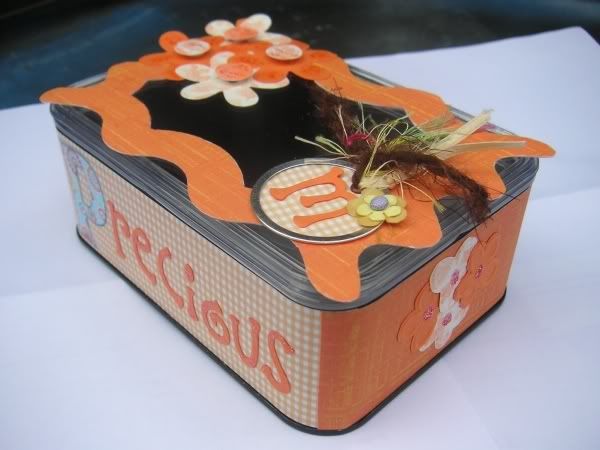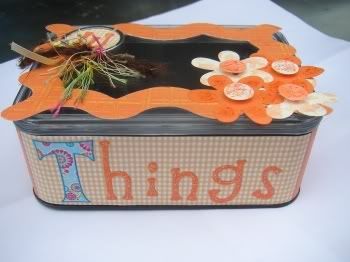 We would love to see your take on this tutorial.
Do share it with us, email us at artzdescrap@yahoo.com.sg
Happy Altering!!!
Sunday, June 1, 2008
Ready for the next Challenge?
What would you do if you had an alterable drawer for your t
rinkets?

For this month's challenge, we would like you to alter any small storage drawers or box.
We are giving out 6pcs of alterable cardboard drawers to the 1st 6 (six) scrappers who register
with us through our email at
artzdescrap@yahoo.com.sg
(Pls state Registering for Challenge #6 in your email header)


Challenge: To alter any small storage drawers or box
Here are ours!
Cabbie's Project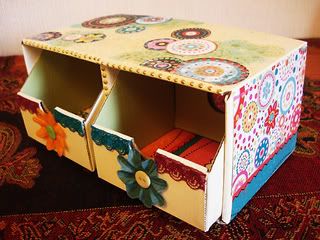 Felicia's Project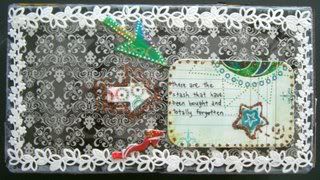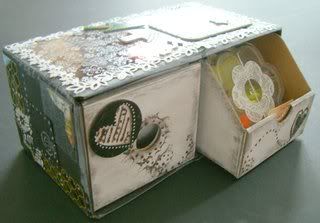 Liza's Project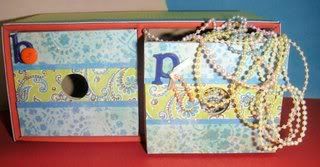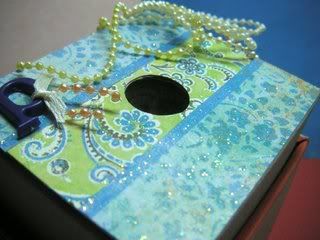 Wati's Project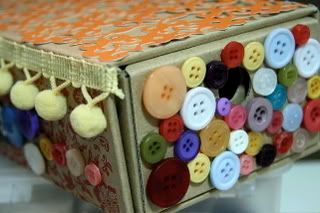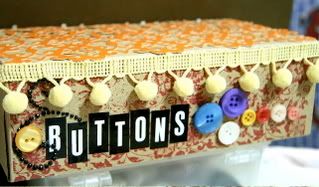 Update: Due to the overwhelming response, we regret to inform you that the giveaways have all been taken up.

If you are not the 1st 6 registrants, no problem!

Just alter your own alterable drawer or box and link your submission
(on your blog) in the comments section or email us a copy to
artzdescrap@yahoo.com.sg
for a chance to win a RAK.
You have till Monday 30th June 2008 Midnight Eastern Time.
International scrappers are most welcome to join in.
The winner will be voted by the Designers and will be announced here on the 1st of July 08.
Sneak Peek of our next tutorial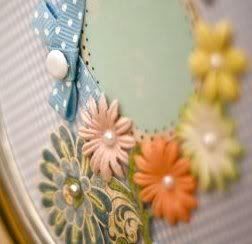 Do check back here on the 15th of June 08 for this Lovely Project and a wonderful tutorial by our next chosen Inspirational Scrapper
Thank you for all your Gorgeous submissions of your ME Canvas! We hope you had fun while creating the canvas!
The Design Team has voted and the winner is ..................
Alby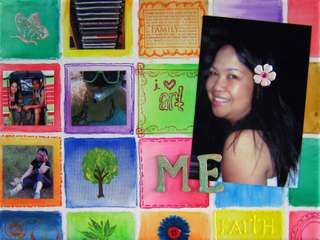 Congrats Alby
Artz de Scrap
will be in touch with you shortly.
You will be receiving a RAK sponsored by
Our Craft Place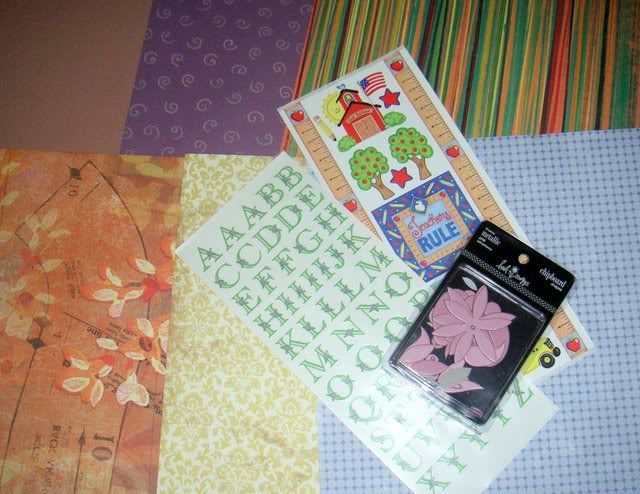 Thanks again for playing along with us and hope to see more precious & lovely submissions for Challenge #7!