Items Needed
1. A wall clock (any size)
2. Adhesives
3. Scissors
4. Craft knife
5. Piercer
6. Cutting Mat
7. Screw driver
8. Patterned paper
9. Flower cutouts
10. Rub Ons
11. Number stickers
12. Other embellishment
Step 1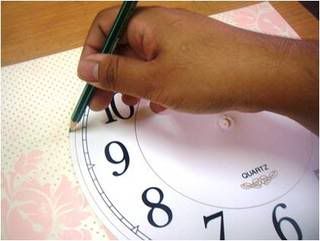 Unscrew the casing of the clock and gently pull out the second, minute and hour hands in the clock.
Step 2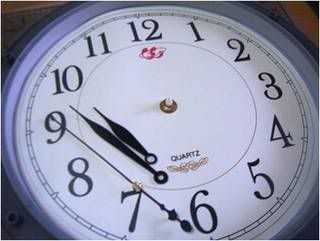 Carefully peel out the background sheet in the clock and trace the circle size onto the pattern paper.
Cut out the circle
Step 3
Align the two papers carefully and on a cutting mat, pierce holes on the numbers to mark where each number should be on the new background paper.
Trace also the hole in the middle of the paper and cut out.
It should look like so:
Step 4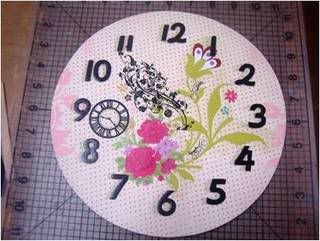 Embellish and place numbers on the marked places on the new background. Making sure the middle hole is not covered.
Please make sure also that the embellishments are not layered too thick that it would hamper the movement of the clock hands.
Step 5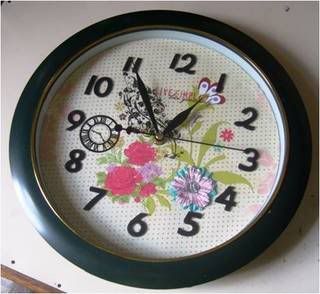 Place the finished background paper on to the clock base and carefully reassemble the hands and screw in the cover.
Now you have a beautifully made altered clock to hang on the wall.
And here are out takes on this tutorial:
Cabbie's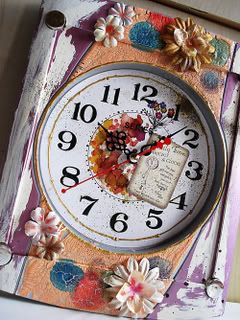 Felicia's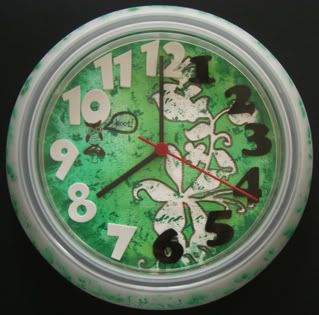 Liza's
We would love to see your take on this tutorial.
Do share it with us, email us at artzdescrap@yahoo.com.sg
Happy Altering!!!