Artz de Scrap's Chosen Inspirational Scrapper for November 08 is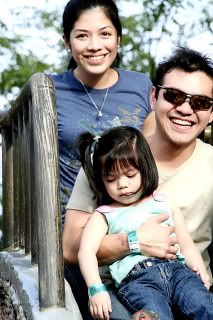 I am a scrapper from The Philippines, a wife to a wonderful and supportive husband named Bryan, and a mother to a beautiful and sweet little girl named Nicole Breanna. I started scrapbooking in 2005 after trying to organize my baby's photos but have been left unsatisfied with ordinary photo albums. I like to give my pages dimension with lots of detail. I rarely plan my pages – I let a photo or a patterned paper inspire me and I take it from there.
Aside from being an avid scrapbooker who dreams and obsesses about patterned papers and page ideas all day, I am also a pianist and a partner in an events management company. I'm also a very active person who frequents the gym, and joins 10k marathon runs whenever I can.
I am fortunate to be currently designing for Prima Marketing, Webster's Pages, October Afternoon, Badgirlskits, and Scrap-n-Crop. I have also been named as one of the 2008 Memory Makers Magazine Masters. I am fortunate to have some of my layouts published in Memory Makers Magazine, Scrapbook Trends Magazine, Sommerset Memories, Scrapbook and Cards, Scrapbook Dimensions, and Scrapbook Memories. I am thankful for the blessings which have come my way as an artist and will continue to be thankful for the happiness and fulfillment that I get from this craft.