Materials and Supplies required:
- 3 Round Styrofoam Forms
- Glossy Accents
- Ribbon Spools
- Paint
- Border Punch
- Paper and embelishments of your choice
1) Measure your styrofoam pieces
2) Cut desired Paper according to Measurements (I used Flights Of Fancy By Prima).
3) Adhere paper to styrofoam pieces ( I adhered black paper on the bottom for a cleaner look)
4) Cut contrasting paper into 1 1/2 inch strips
and then punch the edge with a boarder punch of your choice and adhere to the sides of each paper covered round styrofoam piece (this will hide the edge)
5) Stack your ribbon spools to the desired height and glue together
6) Now Paint and adhere spools to the center of each covered round foam circle stacking your round styrofoam pieces in tiers
7) Embelish and fill with yummy cupcakes!!!
The Finished Cupcake Stand!
Here's our take to the tutorial and challenge:
Cabbie's Cupcake Stand!
(to be updated shortly)
Felicia's Cupcake Stand!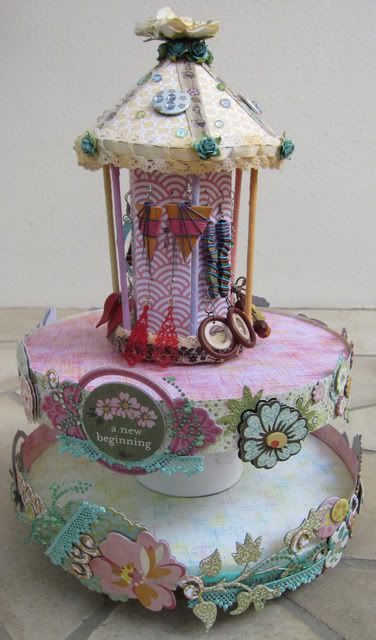 Vicki's Cupcake Stand!
(to be updated shortly)
Now that you've seen all of our takes, do share with us your creative ideas on the challenge!!! You have till Tuesday 14th June 2011 Midnight Eastern Time.
International scrappers are most welcome to join in.